Bespoke Courses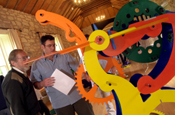 Specialist Areas
Facilitated group experiences
Individual and team profiling
Maximillion is an accredited BELBIN Team Role profiling centre.
Business simulation models
Team-based programmes
Maximillion is an approved TPLD Infiniteams reseller partner.
Learning Labs
Companies trained for
British Energy plc
GE VetcoGray
NATS
F. Hoffmann-La Roche
BOC
RBS Group
Skills Development Scotland
Home Office
Airtricity Europe
ACCA Global
Lloyds TSB
ConocoPhillips
Maximillion
Profile
Maximillion Learning & Development is part of the multi-award winning creative event management and communications agency, Maximillion Ltd. Our specialists in team development are passionate about positive change within teams and organisations and believe that developing a team's effectiveness goes beyond a piece of training or team building. Our strength lies in being able to combine the latest thinking in organisation and management development with dynamic team-based experiential learning using creative event experiences, business games, games-based learning and simulation models. Our range of Team Effectiveness interventions are designed from our Edinburgh HQ, and delivered across the UK and beyond.
We improve business performance by taking an action led approach. We take time to understand what you want, apply our approach, and design a bespoke programme which will achieve your objectives and deliver performance orientated results. Our programmes are experiential in terms of scope, using current theoretical models and aiming to develop the individuals within teams and teams within organisations. Our programmes involve a balanced mix of facilitated discussion, reflection and planning using practical participative tools to provide the learning platform.
Offering
Eden
Introduction:
Eden is designed to encourage whole organisation action for the environment. It is
an environmental management tool, learning resource and team awareness tool.

Objectives:
Improve awareness of topical environmental and
social themes
Generate excitement and interest in the CSR
Build team activity
Outline:
The conference delegates were organised into groups of 6 or 7, and were tasked to "travel around the world" taking part in environmental and social challenges to win "resources". Groups used their resources to build sustainable communities consisting of water, land and people components. Groups had to compete, but also collaborate to ensure carbon emissions were controlled.

Eden was designed to developed, inspire and motivate individual and organisational change.
To book the course now, call us at 08455213747 or click here to fill the form.
See all courses for this associate →
Testimonials
F. Hoffman-La Roche Partner Project Team Event, January 2009, Basel Switzerland:
"One Mission. One Voice". Incorporating "Retrospective" video production team event and "Rhythm Rocks" percussion workshop

The Project Team event was about Human Impact - a motivational event supporting change management and project implementation efforts that would energise & inspire team members.
"This was a great experience and team building event contributing to a successful and focused working on the change ahead of us".
Head of Human Resources Basel, F. Hoffmann-La Roche Ltd., Switzerland
ACCA Global Annual Conference June 2008, Oxford:
Maximillion worked in partnership with the leaders of global accountancy body ACCA to develop scenario based activities that raised the awareness of working with the values of the organisation. The two-day annual conference event focussed on creating secure understanding of organisational 'values at work', while promoting the importance of all the key international business relationships necessary for an effectively functioning organisation.
Our lead facilitation team successfully provided creative and highly imaginative solutions in order to stimulate scenarios relevant for success. A series of self-reviewed activities demonstrated that there are real, tangible, practical things that can be done to provide direction and support when working with values in the workplace.
"I think the session designs were great in terms of getting people to think differently and in terms of relevance to our business needs." "Sandy was excellent at pulling everything together at the beginning - and if you want a man to close a deal for you he knows how to do it! Jane was fantastic at being calming both before the event - when I know I probably wanted to know more than some clients - and during the event itself."
Head of Organisation Development, ACCA Global